Labyrinth Walking ; Taking a stroll with your soul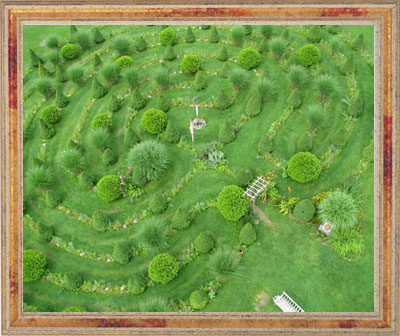 Labyrinths are ancient symbols and spiritual tools created from sacred geometric patterns. Unlike mazes, labyrinths have only one path—a meandering but purposeful path to the center. The way out is the same as the path walked in.
Many people walk labyrinths as a form of meditation or prayer, producing a contemplative state and connection to the divinity in all things. For others, they offer a metaphor for journeying into the deepest self and the return back into the world with a broadened understanding and insight into one's true nature.
Intended as a place of refuge and sanctuary, the kripalu labyrinth is located on the southwest side of the Main Drive, just a short walk down the hill from the main Shadowbrook building. Built in the spring of 2001, it is laid out in the classic seven-circuit Cretan pattern and measures 90 feet in diameter and 1,000 feet in length.
Begin your labyrinth walk by pausing at the entrance, becoming aware of your breath, and setting an intention for your walk, such as seeking insight or answers to a specific issue in your life; honoring the memory of a loved one; praying; or simply slowing down and taking time for reflection. Then simply take the first step and let the journey unfold.
~ Sudha Carolyn Lundeen, RN is a holistic educator and Kripalu Yoga teacher-trainer who, along with Kevin Foran (Moose), inspired the building of Kripalu's labyrinth